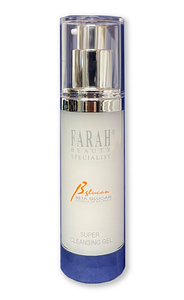 FARAH SUPER Cleansing Gel F-1315 (50ml)
FARAH SUPER Cleansing Gel F-1315 (50ml)
Maintaining clean and healthy skin is an essential part of skin
care treatments. Active ingredients can easily be absorbed only
when the skin's pores are clear of blockage. This helps the skin's
respiratory functions work properly.
This unique and gentle Super Cleansing Gel has a powerful, deep
cleansing effect that is unrivalled by ordinary cleansing products.
With the help of this gel, the rough layer of the skin is softened
and can be remove. As a result, it stimulates and speeds up the
skin's cell regeneration, prevents the development of acnes,
black heads, white heads, and seborrhea, leaving behind aSerum
smoother, softer, and healthier skin.
Instructions: After cleansing, apply on evenly on face and neck.
Gently massage for 1-2 minutes with fingers, then rinse with warm water
and follow up with a day or night cream. Can be use every 2 – 3 days.
Suitable: For oily or normal types.
Ref: F-1315
---
We Also Recommend
---