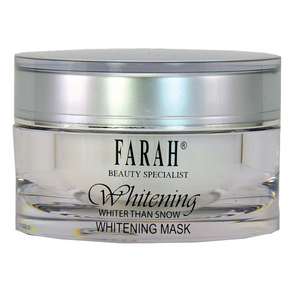 Farah Whitening Mask F-1605 (50ml)
This is a very unique clay mask for fast whitening results. It promotes blood circulation with wash-off action to remove impurities, it helps the cell renewal process without irritation.
The skin becomes softer, smoother and brighter
Active Ingredients: ALPINE PLANT-DERIVED SKIN LIGHTENER, ALPHA ARBUTIN,
PROVITAMIN B5, KAOLIN, ECHINACEA PURPUREA EXTRACT.
Application: Use once or twice a week on face and neck after cleansing. Let it set for 15-20 minutes. Gently remove with a soft sponge soaked with lukewarm water. Follow up with the tonic, pat dry, and use day or night cream as final care.
Suitable for all skin types.
---
We Also Recommend
---