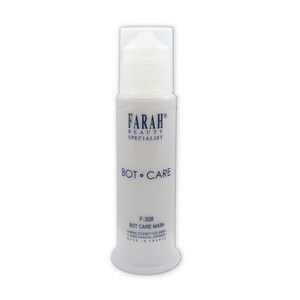 Farah Anti-aging Bot Care Mask F-308(150ml)
Farah  Anti-aging Bot Care Mask F-308(150ml)
The mask contains an anti-wrinkle hexapeptide that reduces the depth of the wrinkles in the face and eye area. It leaves your skin feeling tighten, smooth, and resil­ient, which gives the skin its youthful fresh appearance. 
One of the most striking signs of aging is increased wrinkling of the face. This occurs naturally over time and can be enhanced by environmental factors. Botox has been used for many years to help fight the signs of wrinkles but now this luxurious product offers the benefits of botox without the side effects.
Application:

Apply a generous layer once or twice a week on cleansed skin of face and neck. Let the mask set for 15 - 20 minutes. After­wards, gently remove with a soft sponge soaked with lukewarm water. Tone, pat dry and follow with day or night skincare.
Skin Types: Suitable for Dry, Normal, and Mature Skin Types
---
We Also Recommend
---