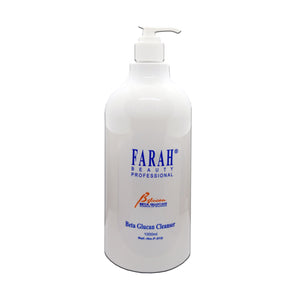 Beta Glucan Facial Cleanser F-310 (1000ml)
FARAH Beta Glucan Facial Cleanser F-310 (1000ml)
A cleansing lotion without chemical preservatives, chemical emulsifiers, coloring, or perfume. Beta Glucan line gives your skin the power to mend and defend against the age producing effects of stress, sun, smoke, and other environmental assaults.
Active agents: β-Glucan, Thistle Oil, Panthenol
Application: Spread it over face, neck, throat,
and rinse it off with plenty of water.
Suitable: All skin types, especially sensitive skin.
Ref: F-310
---
We Also Recommend
---