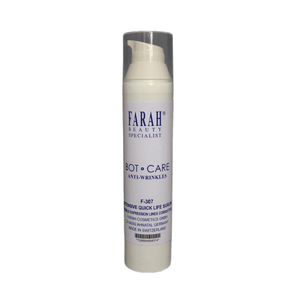 Bot Care Intensive Quick Lift Serum F-307
INDICTION: Against facial expression wrinkles; a new blend of nontoxic active principles, anti-aging peptide, obtained from the chemical combination of natural amino acids that work in  a similar way to botulinic toxin without changing or distorting facial expressions. Now the anti-facial expression wrinkles power acts there, where it is needed most.
BENEFITS:  Relaxes facial muscles Reduces the depth of wrinkles and mood furrows; Prevents the formation of new wrinkles.
BENEFITS OF ACTIVE INGREDIENTS:
Hexapeptide -3: relaxes and smoothest the appearance of wrinkles before they settled permanently, Targets Cutaneous micro-tensions to refine the skin without freezing facial expression.Hyaluronic Acid to help visible smooth the skin
INGREDIENTS: AQUA (WATER), PENTYLENE GLYCOL, BUTYLENE GLYCOL, SODIUM HYALURONATE, HYDROLYZED WHEAT PROTEIN, ACETYL HEXAPEPTIDE-3
HOW TO USE:  apply to the targeted areas after cleansing in the morning and/or evening. With light tapping movements until fully absorbed.
PROFESSIONAL USE: 1. Cleansing 2. Peeling; 3.Steam & Tonic ;4 . Apply Intensive Quick Life Serum  a few drops of the Bot Care Intensive Quick life serum along the muscles and wrinkle areas ( optional, using light therapy & vacuum units , Therma G Plus, HIFU machines ) . 5. Massage with massage Cream 15mins;  6.Apply BOT Care Mask 15mins 7. Apply Final Care - BOT Care Lifting Cream and Day Cream
Suitable skin type: all Skin type
---
We Also Recommend
---