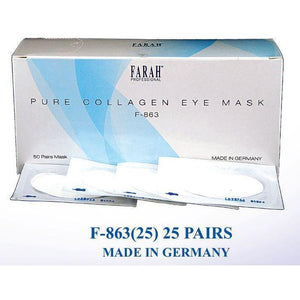 Farah Caviar Collagen Eye Masks F-863(50 Pairs)
Pure and natural collagen for eye care mask treatment revitalizes tired, wrinkled skin in just 25 minutes by restoring its natural radiance. This treatment is highly effective in activating tissue cells and strengthening the skin's vital functions. As a result, it diminishes fine lines and dark
circles, and tightens the eye sacs around the eyes. Suitable for all skin types, especially sensitive skin.
APPLICATION:
Apply twice weekly.
Steps:
1.Cleanse eye area with eye makeup remover.
2.Gently massage Caviar Eye Zone concentrate (1mL) around eye area.
3.Then apply intensive serum (3mL) into collagen eye mask bag (be sure
that eye mask is completely moisturize by the concentrate).
4.Apply collagen eye mask onto the eye area for 25 mins.
5.Gently apply Whitening Eye Care as final care.
Ingredients:




Collagen, Hydrogenated Polyisobutene, Ppg-15 Stearyl Ether, Peg-40 Sorbitan Peroleate


Ref.: F-863(50)
---
We Also Recommend
---