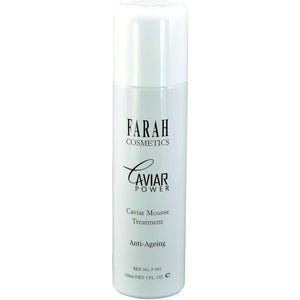 FARAH Caviar Mousse Mask F-901 (150ml)
FARAH Caviar Mousse MASK F-901 (150ml)
Caviar Mousse is formulated to provide the skin with an ample supply of moisture as it regenerates atrophic skin and hydrates dry skin. Because of it's properties, it is also benefical for use with wrinkled skin.
Pre-Treatment:
 After thoroughly cleansing face,  create a peeling treatment for 5 minutes, apply Caviar ampoule with a massage or with machine penetration.
Application:
Apply the Caviar mousse onto the face and let its cooling effect take for 15 minutes. At that time you may use the mousse as a massage cream. Slowly massage the mousse into the skin for about 15 minutes allowing the mousse to penetrate deeper into the skin furthering the effectiveness of the ampoules, Afterwards, the mousse should be completely absorbed by the skin. You may gently wipe off the remaining excess mousse with a tissue.
Final Care Treatment:
Use Caviar concentrate as final care. Suitable for Dry, Normal and Mature skin types. 
Ingredients:
Aqua(Water), Glycerin, DNA, Carbomer, Methylparaben, Potassium Sorbate, Phenoxyethanol, Butylparaben, Ethylparaben, Propylparaben, Isobutyparaben, Propane/Butane, DNA Caviar, Cete Aryl Octanoate, Propylene Glyco, Glycerin, Cetearyl Alcohol/Peg-20 Stereate, Mineral Oil, Caviar DNA Gel, Cocamidopropyl, Betaine, Octyldodecanol, Glycerin Steereate, Sodium Lauryl Glutamate, Sodium Benzoate. Methylparabene, Imidazolidinyl Urea, Stearic Acid.
---
We Also Recommend
---