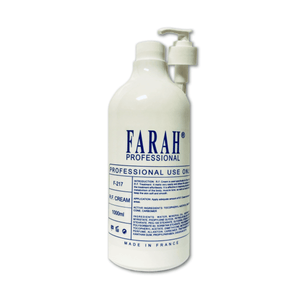 Farah RF System Cream F-217 (1000ml)
Farah RF System Cream F-217 (1000ml)
 INTRODUCTION: R.F. Cream is used specifically for Face & Body R.F. Treatment. It melts very easily and allows the operator to do the treatment effortlessly. It is effective in improving circulation and metabolism of the body, muscle tone, as well as moisturizing to keep the skin soft and smooth.

ACTIVE INGREDIENTS: TOCOPHERYL ACETATE, DIMETHI-CONE, CARBOMER
INGREDIENTS: WATER, MINERAL OIL, ISOPROPYL MYRISTATE, PROPYLENE GLYCOL, PETROLATUM, GLYCERYL STEARATE, PEG-100 STEARATE, GLYCERIN, STEARIC ACID, POLYSORBATE 60, SORBITAN STEARATE, POLYSORBATE 80, TOCOPHERYL ACETATE, DIMETHICONE, METHYLPARABEN, PERF UME, ALLANTOIN, CARBOMER, TRIETHANOLAMINE, XANTHAN GUM, PROPYLPARABEN, DISODIUM EDTA 
APPLICATION: Apply adequate amount of R.F. Cream to treatment areas.
Ref. #: F-217  (1000ml)
---
We Also Recommend
---