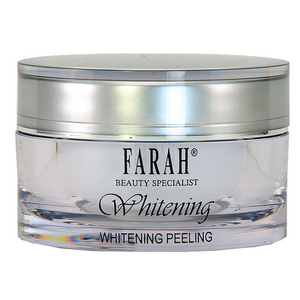 Whitening Peel F-1607 (50ml)
Whitening Peeling is a very effective biological cleansing peeling. Scaly and dead
skin cells are dissolved and the activities of the sebaceous glands are normalized.
Whitening Peeling has an antibacterial and whitening effect. It purifies the skin and
supports the penetration of the skin care products that will be used afterwards. The
skin becomes softer and smoother.
ACTIVE AGENTS: 

HYDROLYSED YEAST, LECITHIN.

Application: 

Apply once a week with a 2mm thick layer on cleansed skin after using
the tonic. Leave on for 5-8 min. Cleanse thoroughly, and then reapply the tonic.
Suitable for all skin types.
Ref. #: F-1607
---
We Also Recommend
---