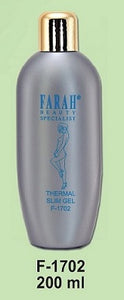 Thermal Slimming Gel F-1702 (200ml)
The Thermal Slimming Gel helps diminish the appearance of cellulite. Once you
massage the gel, the contouring active ingredients (Caffeine, Canella Asiatica,
Polysorbate, and Methyl Nicotinate) are dispersed throughout the skin to target cellulite. Your silhouette is visibly re-sculpted, your skin become smoother, and the "orange peel" fades away, accelerating lymph drainage to drain excessive water and toxins, as well as speeding up calorie consumption. It also consists of elements that helps to firm and lift the skin, leaving your skin more elastic. Apply to areas to be treated in upward movements. Suitable for all skin types.
Ref.#: F-1702
---
We Also Recommend
---