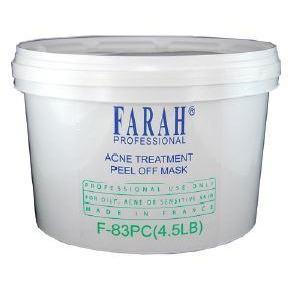 Farah Anti-Acne Peel Off Mask F-83PC (4.5LB)
Farah Anti-Acne Peel Off Mask (4.5LB)
Suitable for oily/acne skin types.
ANTI-ACNE PEEL OFF MASK contains numerous algae extracts. Aloe Vera and Zinc PCA, are powerful anti-acne agents acting as sebum regulators and moisturizers. Active ions help to remove toxins and melanin, promote blood circulation, and keep the lymph free from blockage. Collagen and tea tree oil constrict sebaceous secretion and supplement the loss of natural moisture. The blemishes caused by acne can also be lightened.
ANTI-ACNE PEEL OFF MASK works on early, middle, and late stages of acne.
Early stage: purifies skin and soothes inflammation;
Middle stage: prevents infection and removes heat and redness; and
Later stage: prevents infection and promotes skin renewal so the blemishes can be eliminated after recovery of skin.
INGREDIENTS:
DIATOMACEOUS EARTH, SODIUM ALGINATE, CALCIUM SULFATE, TETRASODIUM PYROPHOSPHATE, ZINC PCA, MELACLEUCA ALTERNIFOLIA (TEA TREE) LEAF OIL,ULTRAMARINES, IRON OXIDES, ALOE, CENTELLA ASIATICA EXTRACT, COLLAGEN, ACORBYL
GLUCOSIDE
---
We Also Recommend
---