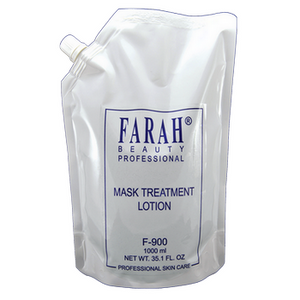 Hydration Mask Lotion F-900 (1000ml)
Lotion for a concentrated surge of hydration and energy. formula specifically designed for use on different kinds of mask for both face and body treatments. It consists of Vitamin A, E, C, and Hyaluronic Acid which activates dormant and dehydrated components of the mask. It can bring about tension effect to enforce penetration, enhance the skin's absorption capacity of active ingredients, and offer a better treatment effect than when distilled water is used.
Active Agents: Corn Flower, Vitamin B5, Vitamin A, Vitamin E, Vitamin C, Soya Proteins, Zinc Pca, Copper Pca, Hyaluronic Acid
Each Treatment: Use 90ml
Application for Peel Off Mask:
Mix 30g of powder mask with 90ml of F-900 Hydrating Mask Lotion or distilled water. Stir vigorously. Apply an ampoule or a serum on the skin, and then apply a thin coat of the paste with a spatula. Avoid the eye area. Leave it on the skin for 20-25 minutes. Then slowly remove the mask.
F-900 1000 ml
---
We Also Recommend
---